METALLICA beim Band Together Bay Area Benefizkonzert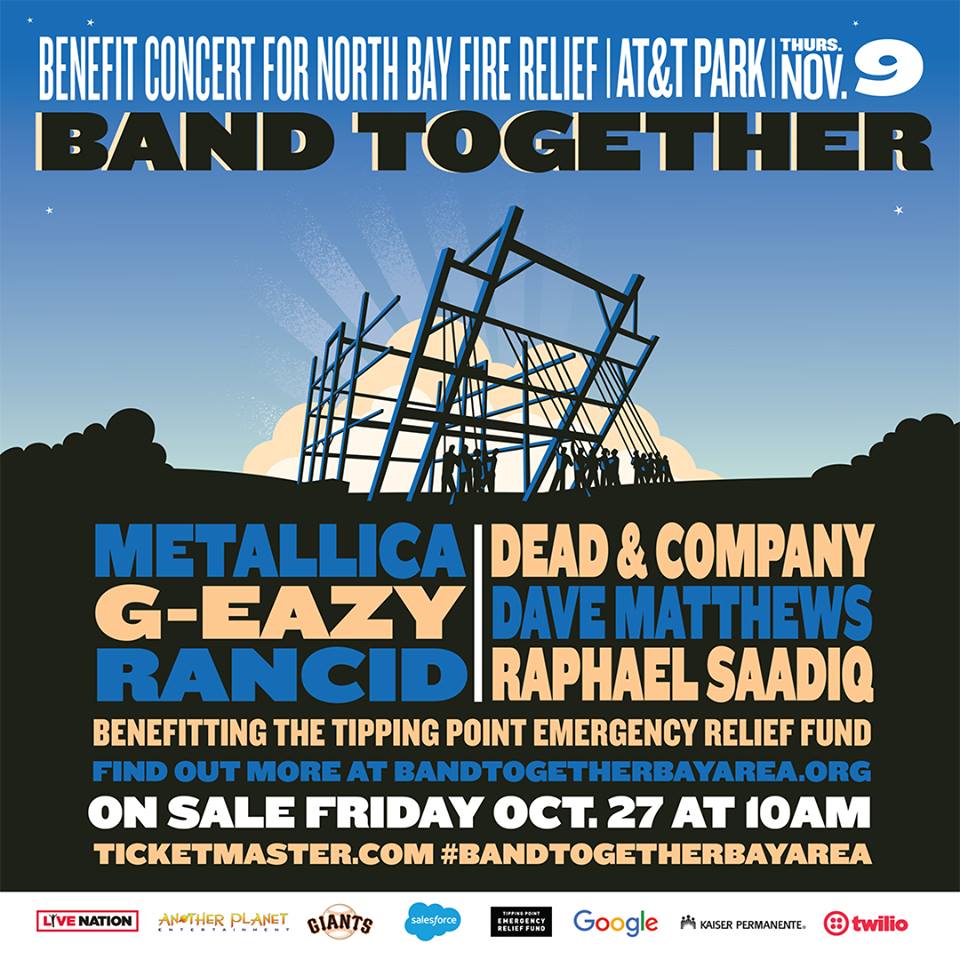 G-Eazy, Rancid, Dave Matthews & Tim Reynolds, Dead & Company, Raphael Saadiq und als Headliner METALLICA mit einem 75-Minuten Set. - Am 09.11.2017 findet das "Band Together Bay Area" Benefizkonzert in San Francisco mit diesem LineUp statt.
Dieses Konzert wird zugunsten der Betroffen der verheerenden und schlimmsten Waldbrände in der Geschichte Nordkalifornien kurzfristig organisiert und ist für alle teilnehmenden Bands eine Herzensangelegenheit. Sie rufen gleichzeitig zu Spenden auf. Alle Einnahmen gehen an die Tipping Point Community, einen speziellen Nothilfefonds der Einkommensschwachen und von der Naturkatastrophe betroffen Gruppen (darunter Weinbauern, Immigranten, vertriebene junge Menschen und Studenten) aktiv unterstützen möchte.
Die gesamte Veranstaltung wird über Metallica.com, den YouTube channel und auf der Facebook-Seite gestreamt.
Hier ist ein auszu aus dem Statement von METALLICA: "Earlier this month Northern California, the community that we have called home for over 34 years, suffered devastating wild fires that have destroyed homes and displaced over 100,000 of our neighbors in Napa, Sonoma, Mendocino, Lake and other counties in the North Bay. We're extremely saddened by the suffering that so many are feeling in the Bay Area, but are also inspired by the enormous outpouring of love and support from all around the country and want to jump in and help in the way we know how to – through music!
With that said, we are proud to be a part of Band Together, a benefit concert at AT&T Park in San Francisco on Thursday, November 9, 2017 to assist the families impacted by the fires and show our immense appreciation to the thousands of first responders who have been working tirelessly since the fires began."
Band Together Bay Area benefit concert: Thursday, November 9th starting at 5:45 PM (Zeitverschiebung - Die Zeit in San Francisco ist 9 Stunden hinter Europe/Berlin.)
Tickets available here: ticketmaster.com/event/1C005357B6CA4A9D
Location: www.facebook.com/ATT-Park-116440731717551/
Website: www.bandtogetherbayarea.org
Die Show im Rückblick auf Youtube (Metallica TV):