Verlosungsaktion AWAKE THE MACHINES VIII - 3CD-Sampler von OUT OF LINE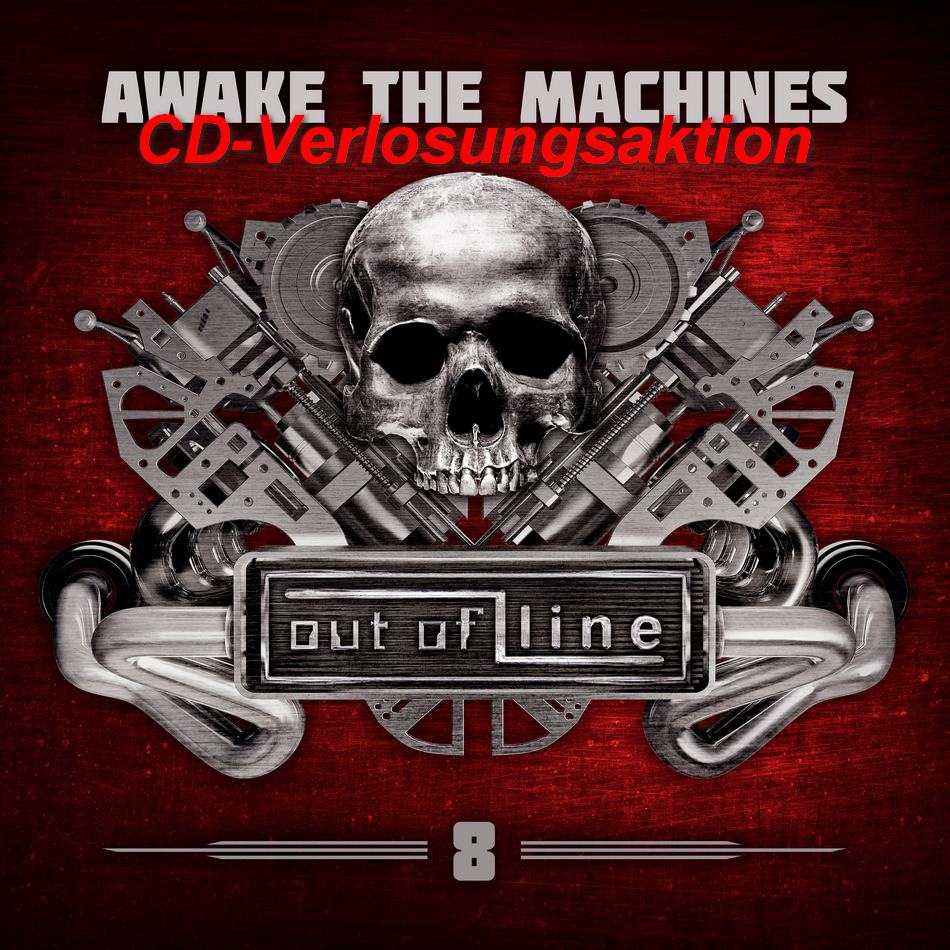 Auch die achte Ausgabe von AWAKE THE MACHINES vereint diverse Genres von Electro über Rock bis Metal. Alle Künster sind bei dem Label beheimatet. Dazu gehören unter anderem Combichrist ++ Solar Fake + Lizard Pool + Erdling + Hocico + Amduscia ++ Signal Aout ++ Solitayr Experiments
In Kooperation mit OUT OF LINE verlosen wir 3x den Varoius Artist-Sampler AWAKE THE MACHINES 8 des Berliner Lables, der randvoll bepackt mit 45 Tracks im schicken Digipak daher kommt.
[ Beendet Wie ihr dabei sein könnt? Schreibt uns einfach eine Mail mit Betreff "OOL-Sampler" und eurem vollständigen Namen! ]Die Gewinner sind Marion O., Astrid T. sowie Ronald K. und werden von uns benachrichtigt.
AWAKE THE MACHINES VIII - Aus den Tiefen erhebt sich ein Dröhnen – und es klingt anders als man es je gehört hat. Denn wenn die Maschinen zum achten Mal erwachen, zeigen sie sich so abwechslungsreich und vielfältig wie noch nie. Out Of Line – das ist das Unerwartete, überraschende, möglicherweise Abwegige. Im digitalen Zeitalter einen 3-CD-Sampler mit dem Parforceritt durch die gesamte Stilistik des Out Of Line Programms inklusive einiger interessanter Gäste herauszubringen ist an dieser Stelle schon wieder fast naheliegend. Im Vollsten Vertrauen darauf, dass es immer noch Musikfans wie uns gibt, die sich vom Unbekannten herausfordern lassen, bietet "Awake The Machines VIII" die volle Crazy World of Out Of Line zwischen stampfendem Electro, deftigem Metal, verträumtem Neo Folk, tanzbarem Synthpop, staubigem Desert Rock und vielem mehr.
Wahnsinnig? Vielleicht. Aber in jedem Fall komplett Out Of Line.
CD 1
Blutengel – Vampire
Solar Fake – Sick Of You
Ashbury Heights – If You're Shooting With The Left Means The Right Side Is Working
The Ritualists – Ice Flower
Lizard Pool – Wave Of Joy
Erdling – Wieso Weshalb Warum
Lejana – The Dirty And The Beast
Osaka Rising – Feel Alive
Unzucht – Nela
Rummelsnuff – Eisengott
Ordo Rosarius Equilibrio – The Misanthrophic Polygamnist
Client – Refuge
Sleepless in Pyongyang – Kronos
Heimataerde – Hick Hack Hackebeil
CD 2
Bloodred Hourglass – Six Feet Saviour
Rave The Reqviem – Ghost Royale
Frosttide – Tranquility
Infected Rain – Freaky Carnival
Fear Of Domination – Sick&Beautiful
Davey Suicide – One Of My Kind
Blind Channel – Over My Dead Body
Losers – Chainsaw
Aeverium – Hunted
Tragedy Of Mine – Built To Resist
Mors Subita – As Humanity Weeps
Xenoblight – Shapeshifter
Combichrist – Broken : United
Rabia Sorda – Violent Love Song
Night Laser – Laserhead
Ost+Front – Heavy Metal
CD 3
Solitary Experiments – Crash&Burn
Massive Ego – Kates In A State
Chrom - Walked The Line
Melotron – Menschen
Hocico – Sex Sick
Signal Aout 42 – Oxygen
Yellow Lazarus - Dead Slot Machines
Angels & Agony – Inside Sanity
Accessory – Outrun The Gun
Too Dead To Die – Step Back, Satan!
Dive – Let Me In
Suicide Commando – The Devil
Any Second – Zorn
The Juggernauts – Purge
Amduscia – Filofobia
Die Gewinner unserer Aktion werden gezogen und benachrichtigt. Der Rechtsweg ist ausgeschlossen!
Datenschutzhinweis: Eure Mailadresse und Name wird ausschließlich im Rahmen der Verlosung und zum Versand an die Gewinner verwendet.
Infos im Netz:
Weekender Festival
www.weekender.berlin
(ersten Bandankündigungen für 2020 sind bekannt - mit FRONT 242)