Out Of Line - Living The Darkness Tour 2021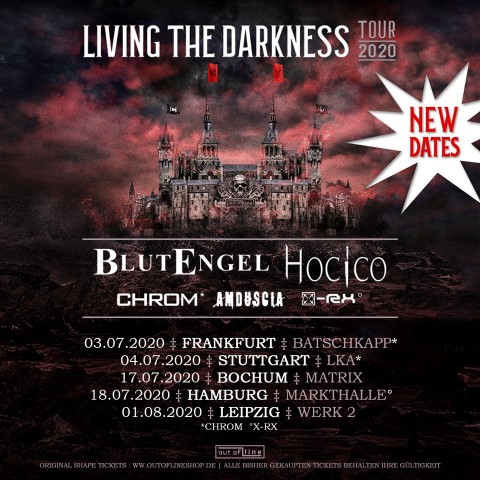 Ihr seid die, die die Dunkelheit leben! Ihr seid die, die durch die Nächte tanzen! Ihr seht Schönheit in der Finsternis! Darum ist diese Tour euch gewidmet: Die "Living The Darkness" Tour mit Blutengel, Hocico, Chrom, Amduscia und [x]-Rx. Es wird ein Happening der schwarzen Szene: Fünf ihrer einflussreichsten Bands haben eine Allianz geschmiedet, um Fans verschiedenster Musik für eine Tour zusammen zu führen. Zwischen hammerharten Beats und verträumter, epischer Melodik wird ein Festival der Dunkelheit zelebriert. Denn es zeigt sich in der Musik, in den Bands, aber vor allem in den Fans, wie kraftvoll und wunderschön die dunkle Seite des Lebens sein kann!
Wie sicher schon viele von euch geahnt und befürchtet haben, müssen auch wir unsere Living The Darkness Tour verschieben. Wir haben ein ganzes Jahr lang auf diese Tour hingearbeitet und die Bands und wir haben uns genauso darauf gefreut wie ihr. Leider lässt uns die aktuelle Situation keine andere Möglichkeit. Das wichtigste momentan ist ganz klar das Wohl aller, von euch als Besucher bis zu den Künstlern, Crew, Techniker, Helfern,….
Allerdings haben wir auch gute Nachrichten, denn die neuen Termine stehen schon fest. Alle bereits gekauften Tickets behalten selbstverständlich ihre Gültigkeit.
Eine kleine Anmerkung noch Out Of line: ihr könnt euch sicherlich vorstellen, dass gerade in solchen Zeiten wie jetzt ein Zusammenhalt sehr wichtig ist. Auch wenn wir gerade alle auf Live-Musik-Entzug gesetzt werden, könnt ihr eure Lieblingskünstler trotzdem unterstützen: im Merch Shop, mit CD Käufen oder ihr holt euch die Party ganz einfach nach Hause, indem ihr die Musik streamt.
Blutengel ++ Hocico ++ Chrom ++ Amduscia / X-RX

neue Termine:
26.03.2021 Markthalle, Hamburg°
09.04.2021 LKA, Stuttgart*
15.04.2021 Batschkapp, Frankfurt*
16.04.2021 Matrix, Bochum 03.04.2021 Werk 2, Leipzig°
*Chrom ° [x]-Rx
Tickets:
Karten erhaltet ihr über www.outoflineshop.de/tickets.html
VIP-Bundle: www.outoflineshop.de/living-the-darkness-tour-2020-vip-bundle-incl-meet-greet.html
Alle Daten
Von

26.03.2021

bis

17.04.2021